Phenix City Divorce Attorneys
Representing Clients in Contested & Uncontested Divorce in Alabama
The divorce process is challenging and often overwhelming. When both parties do not agree to the divorce or there are disagreements about child custody, child support, property division, or other issues, the process becomes more complex. The Phenix City divorce lawyers at Loftin, Loftin & May guide clients through the legal process and help them achieve the best possible outcome.
Call (334) 310-0208 if you are contemplating a divorce or your spouse has already filed to schedule an appointment for a consultation.
Filing for Divorce in Alabama
In order to file for divorce, you must be living in the county where you file for at least six months and the complaint must contain a reason for the divorce. This can either be no-fault or a fault ground, such as adultery, abandonment, domestic violence, habitual drunkenness or drug use, or any of the other grounds recognized by the state. The process is easiest and least contentious when the spouses agree on the major issues.
We advise clients on a range of issues, such as:
Division of property and assets
Division of debts
Our family law attorneys in Phenix City have the legal knowledge and skill to represent clients in all types of divorce cases, from simple uncontested divorces to contested and complex situations. We are also experienced with military divorce and offer a 10% discount for members of the military.
What is the Difference Between a Contested and Uncontested Divorce?
An uncontested divorce is one in which both parties are able to agree on how they want to divide up the assets, debt, support payments, and child custody/visitation.
A divorce is considered to be contested when the couple is unable to agree on one or more important issue in any of the above-mentioned areas.
So what is the primary difference between a contested and uncontested divorce? Namely the amount of time it takes to resolve them. In general, an uncontested divorce will go to court and be processed much more quickly than a contested divorce.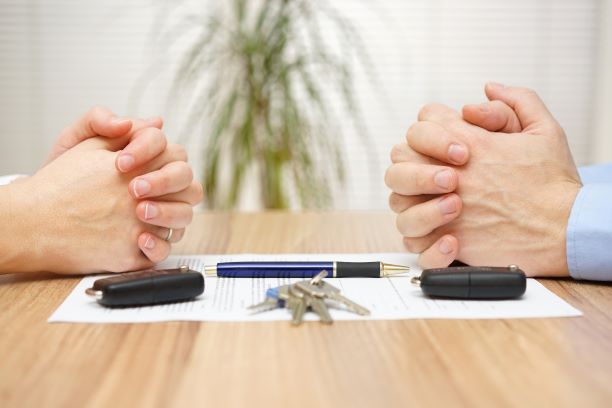 How Is Property Divided In a Divorce in Alabama?
Divorce settlement disagreements often center on the division of assets and property. During the divorce process, either you or the courts will be required to determine what property and debt are marital assets and which are separate assets. Generally, courts consider all property and assets acquired during the marriage to be marital property and requiring of equitable distribution.
Marital Property - This type of property was typically acquired during the marriage and therefore allows the courts to distribute the property however they see fit between either party. This can also apply to assets that become "commingled" during the marriage when both parties end up contributing to an asset that formerly only belonged to one spouse.
Separate Property - This includes any property or assets that a spouse received prior to the marriage or is received as a gift or inheritance. This form of property is usually not divided between spouses, although there can be exceptions for certain assets in long-term marriages.
Assigning Value and Dividing Property
Once the court has determined whether or not an asset is marital or separate, a monetary value must be assigned to each item. If the couple is able to agree, they may be able to assign value on their own. However, in the case of contested divorce, the court will determine the value of the assets.
Next, the property will be divided either by selling certain assets and dividing the proceeds between either party, or by awarding items to either spouse. When a Alabama court must take on the responsibility of dividing marital property they will take into account several factors:
how long the couple has been married
the standard of living that has been maintained throughout the marriage
the age and health of either spouse
duties that will be required by either spouse as parent, wage-earner, homemaker, etc.
tax consequences
the contribution of one spouse to the other's education or training
other income sources
living arrangements for any children
any potential fault that led to the dissolution of the marriage
various other factors
Asset division in a divorce can be complicated, particularly in contested divorces. Our divorce attorneys in Phenix City can explain how the law pertains to your situation and advise you of your legal options.
When you are ready to move forward with your divorce, call us at (334) 310-0208.