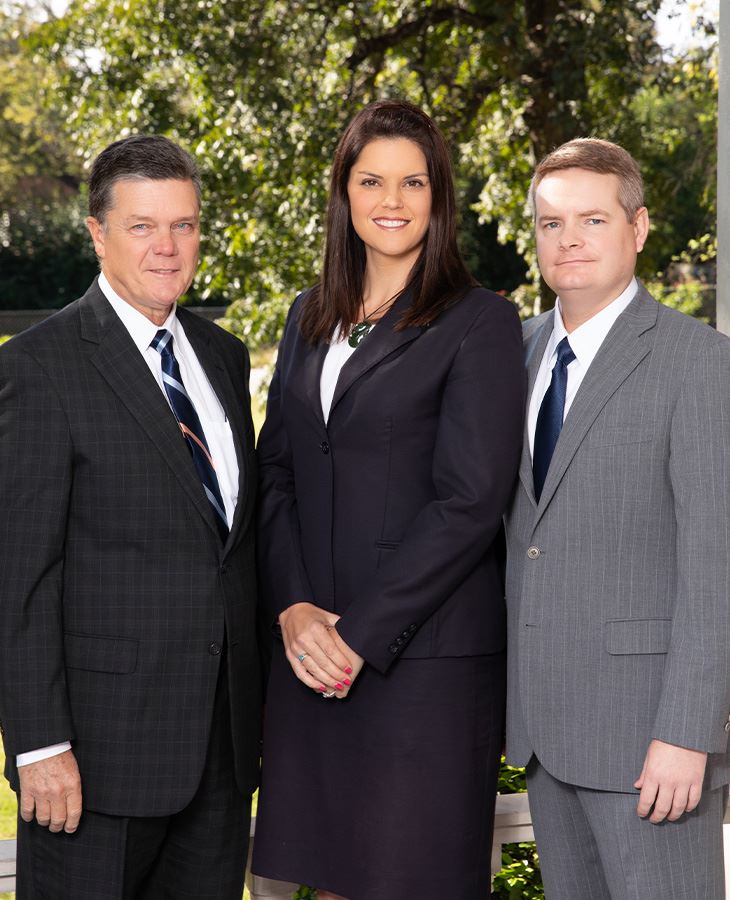 Loftin, Loftin & May was founded by Sam E. Loftin. Sam started practicing law in 1976. He and his brother, Pat Loftin, practiced law together from 1986 until Sam passed away on January 18, 2017. Dana May joined the firm in 2008. Jorja Loftin joined the firm as a lawyer in 2012.
Sam was a "lawyer's lawyer." If another lawyer needed legal advice, a lot of them would ask Sam. Loftin, Loftin & May obtained the largest verdict in Russell County for a wrongful death action. Sam also had the highest rating for legal ability and ethical standards by Martindale-Hubbell.
The Young House
Circa 1873
The Young house, a Greek revival cottage with ionic columns was placed on the national register of historic properties in 1983. This house contributes to the historic significance of the Brownville-Summerville Historic district.
Thomas Young served as the first mayor of Brownville in 1883. Sam Loftin restored the Young House and turned it into what is known today as Loftin, Loftin & May.
F. Patrick Loftin

F. Patrick Loftin grew up in Hartford, a small town in southern Alabama. His older brother, Sam Loftin, started his career as an attorney 10 years before Pat would begin his own. Developing a trusted relationship with clients is an important aspect of Mr. Loftin's approach to a case. People usually seek attorneys during

difficult times in their lives

, which is why Mr. Loftin likes to help people feel more at ease by learning more about them.

Dana M. May

Dana M. May graduated from the Florida Coastal School of Law in 2008 and has been helping people as a bankruptcy and

personal injury lawyer

ever since. Dana was drawn to a career in law from his interests in problem-solving and helping others. As an attorney at Loftin, Loftin & May in Phenix City, he assists people during some of the most challenging times of their lives.

Jorja B. Loftin

Originally from Auckland, New Zealand, Jorja B. Loftin would go on to work at the firm that would become Loftin, Loftin & May as a receptionist for her father-in-law, Pat Loftin. During this time, she witnessed firsthand how lawyers can make a significant difference in people's lives during times of need. This inspired her to enroll in Faulkner University, where she graduated summa cum laude in 2012 and obtained her Juris Doctorate.
Put Our Team On Your Side Today
Outstanding Client Communication

Loftin, Loftin & May prides ourselves on our response rates and accessibility to our clients. We are here for our clients and their families when they need us most.

Over 55 Years of Combined Experience

We are one of the largest and most experienced firms in the area. No matter your legal problem, our team of attorneys can assist.

Free Consultations & Reasonable Rates

With Loftin, Loftin & May, your initial meeting with an attorney is always free for bankruptcy and personal injury. We also offer affordable consultation fees for family law matters.
Your Satisfaction Is Our Priority
We're available to answer your questions about your case.